Joe Hamm Earns Faculty Cross-Disciplinary Research Award
April 14, 2022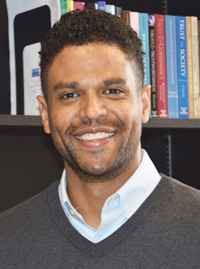 Congratulations to ESPP Graduate Program Director and Associate Professor of Criminal Justice Joe Hamm on being awarded the 2022 Faculty Cross-Disciplinary Research Award by the MSU College of Social Science. This award is given to a tenure-stream faculty member who has conducted significant and innovative cross-disciplinary research that had broad community impact with researchers from a distinctly different discipline that has resulted in notable products such as high-quality peer-reviewed publications, grant funding, and/or media appearances. 
Joe's work lies at the nexus of governance and the public where he investigates what trust is, how best to appropriately measure it, and its connection to "outcomes" like cooperation and compliance. Joe works closely with a variety of governance organizations including police agencies, court systems, water infrastructure managers, public health authorities, and a variety of other state and federal entities with the overarching goal of contributing to a cross-boundary social science of trust.
Joe serves as associate editor of Criminal Justice and Behavior and the Journal of Trust Research. His teaching responsibilities include CJ 905 (Law and Society), CJ 908 (The Cross-Boundary Social Science of Trust in the Institutional Context), and ESP 804 (Environmental Applications and Analysis).
Joe also leads the Teaching, Researching, and Understanding the Social Science of Trust Lab and supervises the School of Criminal Justice's doctoral traineeship in the State Courts and Society.