Luo Named Director of Environmental Science and Policy Program at MSU
August 22, 2022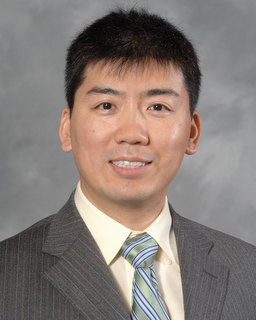 The Environmental Science and Policy Program (ESPP) at Michigan State University is pleased to announce that Professor Lifeng Luo has agreed to serve as Director of the program. Dr. Luo has served as Interim Director of ESPP over the prior 12 months and became permanent Director on August 16, 2022.
Dr. Luo earned his M.S. and Ph.D. in Environmental Sciences/Climatology from the Department of Environmental Sciences at Rutgers University and his BS in Atmospheric Science from Peking University in China. Prior to joining MSU in 2009, he completed a post-doc at Princeton University, jointly affiliated with the Department of Civil and Environmental Engineering and the Atmospheric and Oceanic Science Program. He was recently promoted to Professor in the Department of Geography, Environment, and Spatial Sciences in the College of Social Science.
Dr. Luo's research aims to develop a mechanistic understanding about climate and hydrological
extremes, including their variability and predictability under climate change, through the lens of land-atmosphere interaction and the application of emerging technologies, including statistical methods, process-based modeling, and machine learning. His research examines a range of topics related to land-atmosphere interaction and its impact on the global climate and hydrological cycle at various spatial and temporal scales. His recent research focuses on the predictability and prediction of climate extremes such as drought, floods, and heat waves on the sub-seasonal to seasonal scale. His research has been supported by the National Oceanic and Atmospheric Administration (NOAA), the National Aeronautics and Space Administration (NASA), the U.S. Department of Agriculture (USDA), and the National Science Foundation (NSF).
ESPP was established in 2003 to serve as an umbrella for environmental research and graduate education at MSU, working together with colleges and departments in a collaborative manner to solve environmental problems. ESPP offers a doctoral dual major in Environmental Science and Policy, a graduate specialization in Environmental Policy for Master's students, and a graduate certificate in Environmental and Social Systems Modeling. The program recruits top interdisciplinary students, organizes a variety of student and faculty research events and lectures, hosts an annual Environmental Research Symposium and the Fate of the Earth Symposium, and provide many more activities related to environmental science and policy.
"I am confident that Dr. Luo will make significant contributions to the mission of ESPP and support the aspirations of graduate students seeking to become research scientists shaping environmental policy for the better," said Mary Finn, Dean of the MSU College of Social Science.
Congratulations, Dr. Luo!